​HELPING AMERICAN YOUTHS STAY OUT OF PRISON
HAYSOP
​8075 N. ATLANTIC AVE, CAPE CANAVERAL,FLORIDA
DON PUGSLEY
321-652-8648 24 HOUR HELPLINE
​HAYSOP ( HELPING AMERICAN YOUTHS STAY OUT OF PRISON ) WAS FORMED WHEN DON PUGSLEY AND A FRIEND WAS TALKING ABOUT THE YOUTHS IN THE CAPE CANAVERAL FALLING VICTIM TO DRUGS AND PRISON.
HUPAK. ( HELPING UNDER-PRIVLEGED AMERICAN KIDS )
WITH SEVERAL FRIENDS OF DON PUGSLEYS, HAVING SERVED 20 YEARS OF PRISON AND THE INSIDE KNOWLEDGE OF HOW PRISON LIFE IS IN THE STATE OF FLORIDA AND ALSO WITH SEEING MANY TEENS SENTENCED TO PRISON DON DECIDED TO START THE PROGRAM SO TEENS WOULD SEE WHAT LIFE BEHIND BARS WOULD BE LIKE.
THIS PROGRAM IS NOT LIKE A SCARED STRAIGHT MOVIE , BUT, IT WILL MAKE TEENS THINK TWICE OR THREE TIMES BEFORE THEY ACT OUT. THIS PROGRAM IS ALSO DESIGNED TO HELP THE TEENS THAT ARE HAVING PROBLEMS AT HOME TO TALK ONE ON ONE WITH DON AND NON-PAID VOLUNTEERS.
HAYSOP IS NOT AND WILL NOT BE FUNDED BY THE GOVERNMENT. THIS IS A FREE PROGRAM FOR ALL AMERICAN YOUTHS. A DONATION JAR WILL BE KEPT AT THE FRONT TABLE AT ALL TIMES AND ALL PARENTS OR DONATORS ARE WELCOME TO SUPPORT OUR PROGRAM. ALL DONATION MONEY WILL BE DEPOSITED IN THE ACCOUNT OF HUPAK INC.
DON PUGSLEY IS ALSO A MENTOR TO THE KIDS AT ECKERD KIDS RUN BY THE STATE OF FLORIDA
NOW WORKING WITH HAYSOP ​TO TALK TO KIDS IS :
ANGELO ACETA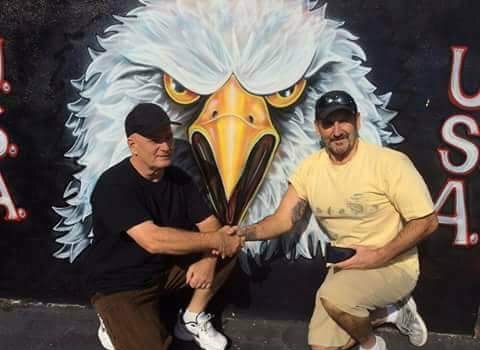 ​ANGELO HAS BEEN IN AND OUT OF PRISION FOR OVER 40 YEARS.
​IN SOME OF THE WORST JAILS IN AMERICA.
​HE EVEN PLAYED A SMALL ROLE IN THE MOVIE
​LOCKUP WITH SYLVESTER STALONE
​GROWING UP IN SOUTH AMBOY IN JERSEY​
​UPDATE
​WITH THE HIGH RATE OF SUCCESS FROM HAYSOP.
​HAYSOP HAS DECIDED TO OPEN A NON-PROFIT IN CANADA.
​OUR GOAL IN CANADA IS TO HELP THE CANADIAN YOUTHS
STAY OUT OF THE PRISON SYSTEM.
​WE ARE HOPING TO START A NEW PROGRAM IN LATE 2018​​
IN THE TORONTO,ONTARIO AREA.
​DON PUGSLEY HAS BEEN IN CONTACT WITH A LONG TIME​ FRIEND
MATT FOLEY, CURRENTLY INCARCERATED IN
NEW BRUNSWICK , CANADA.
​MATT HAS OFFERED TO TALK​ TO LOCAL KIDS
ON HIS RELEASE AND TRY TO SHOW THEM
HIS MISTAKES AND CORRECT THERES.
​
​
​